Launch of WhatsApp Automator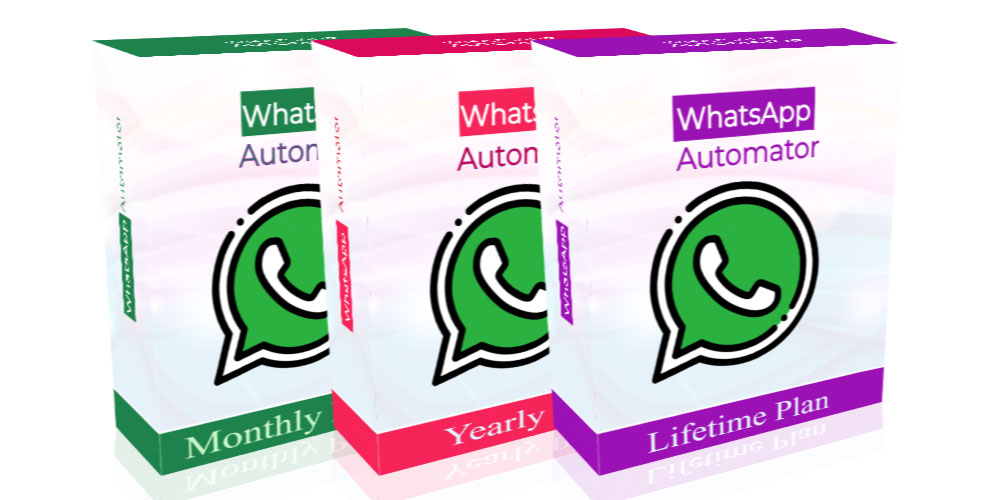 WhatsApp Automator – Create WhatsApp Chatbots, Send Bulk WhatsApp & Filter WhatsApp Numbers
WhatsApp Automator is a Revolutionary software that can be used to WhatsApp create WhatsApp Chatbots, Send Bulk WhatsApp Messages without saving numbers, Filter WhatsApp Numbers out of Non-WhatsApp Numbers, and Many More!…
Have you ever wondered that no one seems to be taking Marketing Advantage of WhatsApp Platform currently, even though it's the most widely used Messenger (With Over 5 Billion Users worldwide)?
Have you ever wondered that WhatsApp is the most UNTAPPED TRAFFIC SOURCE right now?
Have you ever wanted to effectively utilize WhatsApp Platform for your Digital Marketing Campaigns?
GOODNEWS!
The solution is finally Here! And the solution is WhatsApp Automator.
It comes with a lot of amazing features, some of which are:
—WhatsApp Chatbots Creator
—Bulk WhatsApp Sender
—WhatsApp Numbers Filter
—Bulk WhatsApp Message Scheduler
—WhatsApp Groups' Contacts Extractor
—Add Unlimited WhatsApp Accounts
—Send Unlimited Messages
—Personalize Your Messages (Mention each recipient's name (a very powerful marketing strategy)
—Attach Documents to Messages e.g Word Files, PDF Files, Excel Files, etc
—Attach Multimedia to messages e.g Images, Videos, Audios, etc
—Import Contacts from WhatsApp Chats
—Import Contacts from WhatsApp Groups
—Adjust Settings for Speed Control
—Get Detailed Campaign Reports
—Set Variables
—Multilingual Support
—And Many More!…
Kindly note that WhatsApp Automator is a Windows Software. It can also work on Virtual Windows on Mac, Virtualbox (or Any Other Virtual Machine) and a VPS Server
From The Creators of WhatsApper
The team behind WhatsApp Automator are the creators of the Great WhatsApper – The best Bulk WhatsApp Sending tool on the internet before WhatsApp Automator was born.